Why are more and more companies choosing experiential? The lure behind the choice for experiential marketing as the ideal marketing strategy is the immersive and engaging nature of its campaigns. It is important we understand what is meant in detail by experiential marketing and how it differs from traditional marketing. Experiential marketing is sometimes used interchangeably with "live marketing" or "mobile marketing" and makes use of branded experience such as an event, as part of an event, parties, or mobile popup activations that may not necessarily be tied to any event to create lasting positive brand impressions.
There is no one right way to approach experiential marketing but the end game is to ensure that whatever strategy that is chosen, is one that creates engagement and live immersive experiences for the consumers.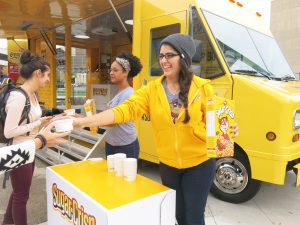 Some of the benefits of using experiential marketing to get your brand includes but is not limited to the following;
Humanizing your brand: Experiential marketing can help to give a human face to your brand or sponsor's brand. With experiential marketing strategies, you create an immersive and lasting experience for the consumers while creating a positive brand impression. An immersive experience paired with social content in a great location can create a lasting impression and help amplify your efforts across different social media channels. Using this form of marketing allows for direct interaction between the business and its fan base, creating lasting experience and increased knowledge.
Brand awareness: This is very important and particularly true for new brands or brands making market entry. Using experiential marketing strategies, there is a limitless opportunity to sway the minds and hearts of consumers towards patronizing your brand by creating engaging touch points that leave lasting memories. And when nearly 70% of buying experiences are based on how customers feel about a brand this becomes vital.
Increased Social Expressions: You and I are aware of the power of social media to driving brand awareness. Experiential marketing is immersive and usually involves photo opportunities which helps the conversation to continue online, there is a marked increase in social awareness of brands that partake in such events. The more marketing efforts made during the event, the better the publicity for the brand.
Increase sales: Experiential marketing when done right, translates to increased sales and business for the brand. Evidently, the more a business is known, the more likely it is to see better patronage.
Experiential marketing may not be "a one size fit all" but it is a sure way to gain consumer attention and increase brand awareness.
To find out how Jam Van can help you add an experiential element to your next campaign and put a smile on your face, reach out to us at 416-203-2375 or email info@jamvan.com