By: Viktor Arzethauser, Senior Account Manager
As a senseless yet eager young marketer, I made the decision early in my career to focus on experiential marketing, or XM for the uninitiated. Having worked in the food service industry since 17, it seemed like a logical progression for me: like an upscale version of my local dive bar.
The similarities between XM and hospitality are abundant and apparent, but the links that chained the two disciplines together for me were the one-on-one human interaction and full sensory engagement. And while the human element brought me to the dance, it was the later that kept me coming back for more in an industry where burn out is an all too real inevitability. Every food trend, tech development and hot local musician can be encapsulated within an activation to launch something as sterile as soap. And as each of these elements fulfill their corresponding sense, consumers will come to realize that this soap is what they've been missing in their life. No intricate digital strategy or catchy tagline will replicate the ability to quench a sun burnt and dehydrated 21-year-old with a cold bottle of branded water at Coachella, all in the name of mouthwash.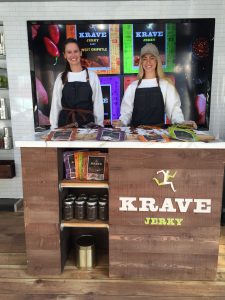 There is, however, a fine line between too much and not enough and even if you get that right, your approach could mess it all up in the end anyway. For instance, giving out cupcakes for cupcakes' sake is an exercise in futility and your deodorant sales will remain as flat as the topless cupcake remains. Your approach needs to be rooted in market research and sprouted through insights, making the sheep's clothing as convincing as possible.
Generally, sensory strategy should come organically; like the inclusion of pine air fresheners at a Santa Claus photo op or the smell of hay and dirt at a vegan food festival. In contrast, I should never ask myself why I smell cinnamon candles at a beer sampling tent. That is, unless it's cinnamon beer, but that's disgusting and a whole different conversation altogether. Long story short, it needs to make sense (pun intended. I'm sorry).
Luckily, many of these elements are some of the lowest hanging fruit and easy to decipher. Simple enough that the soundtrack to your activation can actually be a strategically selected Spotify playlist instead of spending hours building a custom list.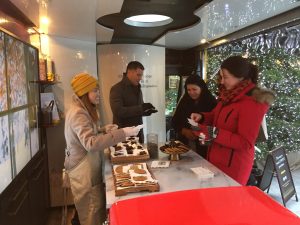 If you're thinking of serving up some grub as a means to entice engagement with your activation, use local food blogs and publications as a starting point. With that being said, be weary of whose influence you choose, any 22 year old with 5,000+ followers is willing to write a positive review in exchange for complimentary melted cheese on a cardboard box. As an example, I use blogTO as my jump off when activating in Toronto. I'll get a sense of which food trends' stocks are rising and which restaurants are hot. From there, I'll mine the comments section and hashtags of those restaurants' social channels, to get authentic consumer feedback (if you're still using Yelp, you and your flip phone can stop reading and go to Arby's. I hear they "have the meats"). Then for dessert, I go to blogTO's Facebook comment section. After which, I either feel better about who I am as a person, or I come to the realization that we're doomed as a species. Either or.
To encompass this blog post into a quote, I'll go back to being young and senseless, and reiterate something I heard back in college by now retired creative guru, Alex Bogusky, which is "great advertising is research done right" (or something to that effect, it was a long time ago). This concept remains true to this day and should be a mantra for creative and account types alike. As long as you keep your ear to the ground, your consumer touchpoints will, at the very least, keep your fickle target demo engaged long enough for you to convince them that a deodorant will somehow prevent them from being awkward and creepy.
Want to discuss how sensory engagement can help your next campaign? Either way we'd love to hear from you!    Email info@jamvan.com or call us at 416-203-2375