By: Jennifer Chan
What a summer we had at Jam Van for 2017! Our cross-country tour with Motrin was a major hit. As mentioned in the article, "The Johnson & Johnson brand is touring popular races and marathons to help boost unaided awareness." (http://mediaincanada.com/2017/05/30/motrin-targets-women-at-their-pain-points/) The campaign ran through May and June with a Motrin-branded Jam Van travelling to four different markets in Canada. For those of you not familiar with the pharma brand, the company is a subsidiary of Johnson & Johnson, with medication that targets pain and fever relief. In order to educate consumers about the brand, its uses and benefits, drive trial to sales, and brand affinity, J3, J&J's in-house marketing agency, chose Jam Van, with nearly 20 years of experience in mobile exhibit executions.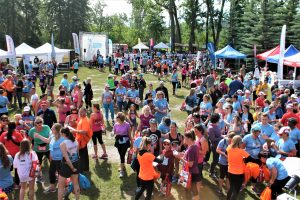 Motrin offers a wide variety of options for consumers to handle their pain. Shoppers have access to Motrin Tablets, Platinum Muscle & Body Caplets, and Liquid gels to provide families with products to help them feel better and make the most of every day. Motrin is committed to helping consumers push through pain and continue with their busy, active lives. Targeting headaches, fever, sore muscles, inflammation, joint and back ache, sprains and strains, and menstrual cramps.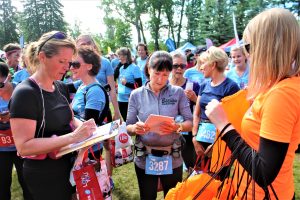 This was the fuel in creating the Unstoppable campaign targeting the women who are the engine that keeps everything going. In their careers and families, mommy groups and social networks, their energy radiates and is infectious. They're busy and they love it. They treat decisively, live dynamically, and refuse to let pain put their life, or the lives of those they love on hold. The Jam Van group created an interactive and unique marketing experience at events and local hotspots, included incentives, savings, and trial, leveraged mobility and eye-catching elements to attain maximized outreach.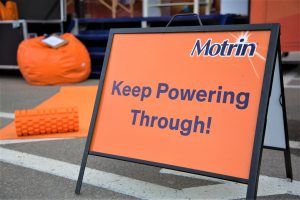 A Jam Van was fully wrapped in bright orange, while the interior was full of décor that offered an inviting and comfortable space to relax after a race. Branded drawstring tote bags, water bottles, and coupons were given away but the highlight of the set-up was the floral backdrop photo opportunity. A unique structure behind a podium allowed runners to capture a memorable take-home photo that commemorated the event. In addition, yoga mats and foam rollers for post-stretching were well-received.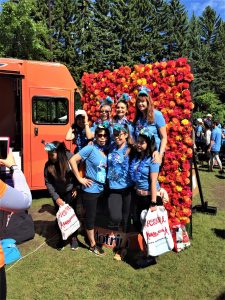 The activation visited Toronto, Ottawa, Calgary, and Vancouver, participating in several sporting events including: GoodLife Fitness Marathon, Run for H20, Color me Rad, and Shoppers Run for Women. Scheduled locations included hotspots, fitness clubs, and parks such as Trinity Bellwoods Park, Yonge and Dundas Square, Parliament Hill, Stephens Avenue Walk, Eau Claire Market, Seawall, Coal Harbour Quay and Sunset Beach Park. These carefully scouted areas aligned with our strategies to reach the right demographic and accomplish key objectives for this campaign. Combining Jam Van street parking permit expertise and event sponsorship allowed the team to be successful.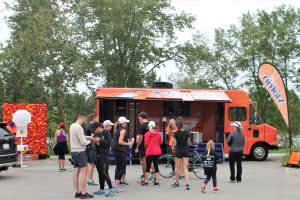 The biggest challenge when developing and executing a concept for a pharmaceutical company are the regulations surrounding the marketing and distribution of medication. The legalities are long winded and require a large of time and manpower to cover every rule in the book. An issue we had with driving experiential was being unable to deliver physical tablets on location. However, many consumers were just as happy to fill in their information for a trial to be sent directly to them.
"Oddly enough, while I was in the hospital Motrin is all that would work for my pain. Even worked better than percocets, which I know sounds weird. I was just grateful not to be in pain." – Andrea, 27
"I saw you guys yesterday at the marathon and took pictures to send my friends. I wanted my friends to see what I needed after the run and you were all there." – Marcus, 45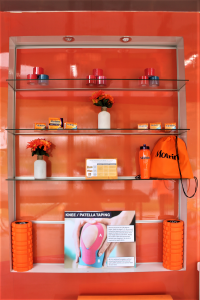 It was only natural for pharmaceutical giant Johnson & Johnson to join partnership with experiential marketing agency Jam Van Inc. in making this campaign as successful as it was. Together, this mobile pop-up can reach almost 1 million consumers across Canada. Jam Van has optimized their expertise in OOH media advertising to bring the Motrin brand to four major markets. If you are interested in mobile experiential marketing, we can customize a program to suit your personal brand.