By: Manavjot Kaur, Marketing and Communications Coordinator
"They may forget what you said — but they will never forget how you made them feel." —Carl W. Buehner
The possibilities are limitless when it comes to experiential marketing and creating unforgettable experiences. Brands are becoming increasingly creative with their promotional campaigns, utilizing innovative techniques to interact with consumers and reinforce brand message on the show floor and beyond. Is there a medium that continues to gain traction? Experiences with customized vending machines. Yes, you read it correctly: customized vending machine experiences!
In the experiential realm, vending machines are nothing new, but the interactive machines have been resurfacing in a range of activations, providing brands the opportunity to enhance their swag drops, educate their audience and offer personalized experiences. Not to mention that the range of things they are capable of dispensing, has expanded dramatically in recent times, with anything from bottles of wine and fresh pizza to make-up products and gadgets.
Due to its potential to deliver a hygienic, cashless, and contactless self-checkout experience, these savvy vending machines have been in great demand since COVID-19 emerged. Let's look at 6 examples of such vending machine experiences that dispense inspirations for us-
1.) Orangina's #ShakeTheDispenser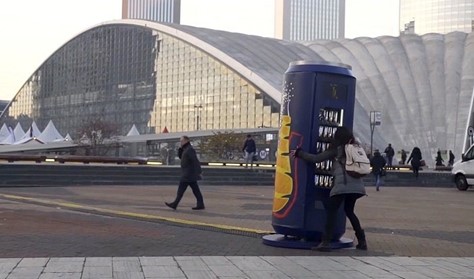 What if your brand's one of the most successful marketing initiatives hinged on a vending machine failure? This is precisely what Orangina's #ShakeTheDispenser campaign aimed to achieve. The iconic soft drink brand installed custom-built vending machines in France's La Defense and Lille Europe. Consumers had to shake these devices in order to get their drink out, as they were designed to capture cans while they were being dispensed. They also encouraged consumers to shake even harder if they weren't being aggressive enough. What's the end result? Orangina gained awareness for their new brand signature, Shake the World, in under 48 hours. Consumers' initial dissatisfaction turned into a viral opportunity.
2.) Maybelline- #PumpedUp
Maybelline created an interactive, product knowledge and data-based experience for consumers, for the launch of the new Maybelline Pumped Up Mascara, to drive awareness and product trial. This branded social media vending machine dispensed mascara after a consumer sent a tweet to @MaybellineCAN. They enriched the experience and deepened product education with on-the-spot applications by certified make-up artists. This campaign's reach was further extended with post-makeover photos. The result? 1000s of target-right consumers reached over 4-day campaign, 775 live makeup applications delivered, 2,500 coupons to drive sales distributed and 2,000+ tweets for product drove reach beyond activation footprint.
3.) Walkers Crisps: Tweet to Eat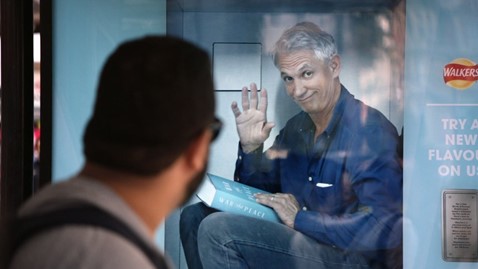 Walkers Crisps in London had a wonderful campaign called 'Tweet to Eat,' that turned bus shelter advertising panels into full-fledged vending machines, with a twist — the Walkers brand ambassador stuck inside virtually. It was an innovative approach to add newness to everyday life, with the added benefit of dispensing a physical product that customers can enjoy right away. What was the end result? Walkers witnessed a 22 percent improvement in favourable brand perception as a result of the campaign, which generated 5.7 million Twitter impressions. The virtual ambassador distributed more than 500 packets in response to direct tweets.
4.) Reese's Halloween Candy Converter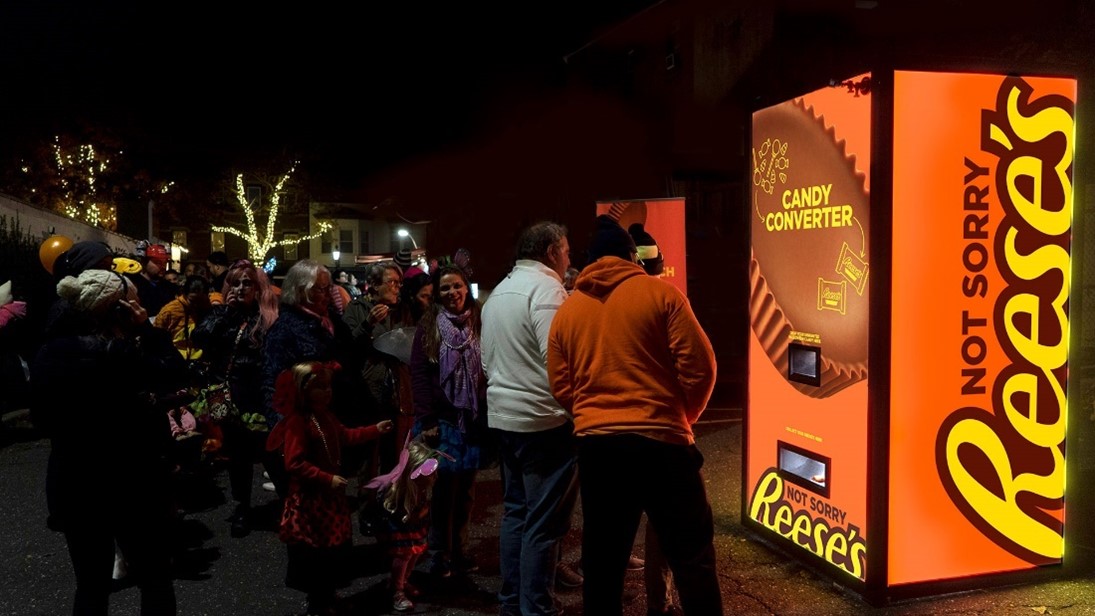 The "Reese's Halloween Candy Converter Machine" was a hit during the town's Halloween parade in New York. The machine's goal was to allow consumers to trade in their unwanted candy for Reese's Peanut Butter Cups. After a survey revealed that 90% of Americans had exchanged or desire to swap candy on Halloween, Reese's created the machine. The vending machine concept arose from a conversation about trick-or-treating, and how people really simply want to find the home with the good stuff—the Reese's. That, plus the fact that children already like exchanging candy for something they want more. People usually have something in their bag that they wish to get rid of. This is a significant Halloween tradition. So Reese's put themselves right in the center of it.
5.) The Short Story Dispenser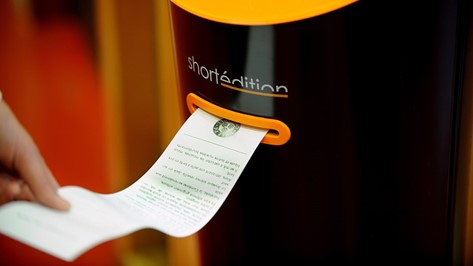 While many people have bemoaned the loss of the art of reading in our social media-driven world, only few have attempted to remedy the situation. The exception is Short Édition. Short Édition is a French publishing house of short literature: poetry, short stories, and flash fiction. They designed and constructed the Short Story Dispenser to merge the old with the modern in giving an ever-changing cache of short tales to provide people unexpected literary moments in their everyday lives, inspired to promote literature in an ever-faster, digital world of screens. The Dispensers, which are linked to their web platform, print free stories of 1, 3, or 5 minutes on paper for the public.
6.) The Cuterus by The Pill Club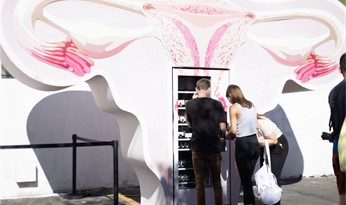 The Pill Club, a direct-to-consumer women's healthcare business, put a novel vending machine in New York City on September 26 in honour of World Contraception Day—and the public wouldn't have been able to miss it because it was built like a giant uterus. Healthcare products that do not directly pertain to cisgender men continue to be a major barrier to access, such as birth control, which requires a prescription, despite the fact that millions of women use birth control. By placing this vending machine, The Pill Club hopes to break the social stigma around birth control and remind that access to these products should be as easy as getting a snack from a vending machine.
Brands are using vending machines as part of their marketing strategy in a variety of ways, with new themes added to each vending machine activation. There is no limit to the sort of experience brands may create utilizing vending machines in their experiential strategy, from philanthropy to sustainability to sheer fun.
When it comes to creating an experience that is memorable, distinctive, and can help drive your brand messaging home in a fun, engaging way, this a tactic you should absolutely consider. Get in contact with us to explore possibilities!
Jam Van is a leading experiential marketing agency that offers specialization in experiential marketing, mobile experiences and out-of-home media, thanks to our 20+ years of experience. If you want to get started, send us an email at info@jamvan.com.