As someone said, gamification and experiential are a match made in marketing heaven.  Incorporating a game aspect into your campaigns boosts interaction and allows you to engage with your target audience while boosting dwell time.
Even though gamification has been around for a while, it is still seen as a future marketing trend and, because of this, is gaining popularity as a wonderful way to engage a consumer audience. ​That's because the idea of playing a game and winning a prize is something that appeals to almost everyone's creative, fun, and competitive side. Gamification is fun, but it goes beyond reading text or watching a video.
Gamification is a method of incorporating the core of what makes games so fascinating and compelling into non-game experiences. It is a means for marketers to stand out and leverage the emotional high of winning to seal a transaction on a product or service. Gamification leaves a lasting impression on the user, who may feel compelled to tell their friends about the experience they had. This strategy has been shown to boost engagement, loyalty, the customer experience, and most importantly, product movement.
Gamification in marketing, in truth, opens up a plethora of creative opportunities. Let's look at 5 inspiring examples-
1) Unlock your inner '007'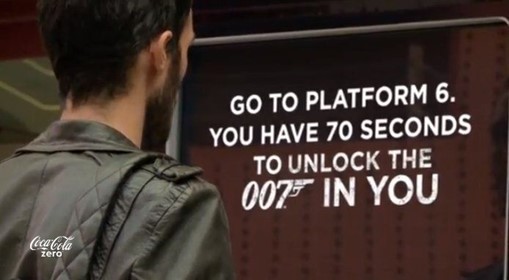 Source
Train station users were invited to unlock their inner Agent 007. This was done to market Coke Zero in Antwerp while also promoting the James Bond film Skyfall. They were allowed 70 seconds to reach Platform 6 after visiting a modified Coke machine. But first, they had to navigate a series of stumbling blocks. Finally, they had to perform the Bond theme song to receive their free movie tickets. This was a fantastic activation.
2) All eyes on S
Players are given the opportunity to win a new generation smartphone by merely staring at it for an hour. As a throng forms around the contestant, they are pushed to dodge all kinds of absurd distractions including barking dogs, arguing couples, and motorcyclists. Samsung had built an experience that raises brand awareness on several levels. This includes not only the participants themselves but also the secondary audience of onlookers on the scene and online. This is an excellent demonstration of how gamification can be integrated to provide a social experience that is both amusing and immersive.
3) McDonald's Monopoly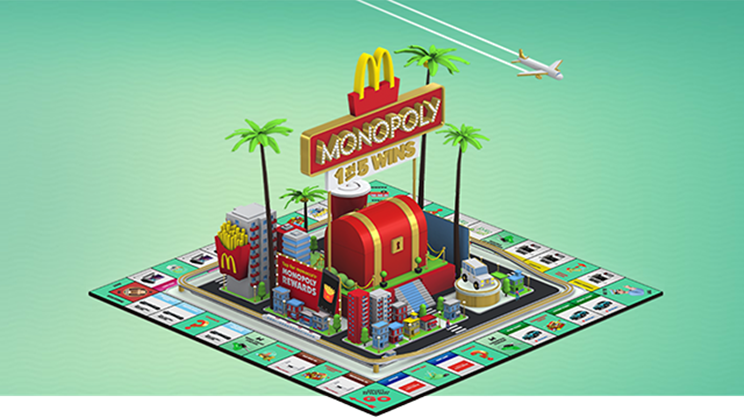 Source
Since 1987, McDonald's has been running its world-famous McDonald's Monopoly promotion. It currently operates in 23 countries throughout the world, attracting millions of customers each year. The campaign concept was developed after discovering that the majority of Mcdonald's Customers value life experiences higher than material possessions. It was also discovered that people prefer to have a choice, which is something that was introduced at "every level of the prize pool". McDonald's Monopoly makes use of several different gamification mechanisms to create a fun, enticing experience for McDonald's customers. McDonald's Monopoly's various mechanisms all work together to produce a one-of-a-kind, intriguing campaign that has demonstrated its success year after year.
4) Spin-the-wheel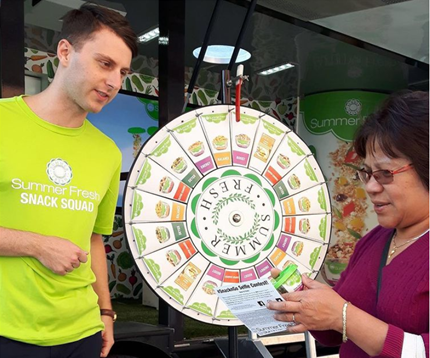 Source
Spin-the-wheel marketing ideas date back to a time when few people considered them to be effective marketing strategies. They are a big hit for a reason. This is not only a favourite among our clients, but it is also incredibly effective in rewarding loyalty, engaging customers, and, of course, generating a spike in sales. It's ideal for branding. The wheel can be customized to your plan, and your design/layout can be applied to the game, giving you the ability to customize the game and include your logo/product. This is ideal for Brand Activations, Product Launches, Trade Shows, Experiential Events, and Trade Shows. Have you seen our post on four reasons to use spin-the-wheel in your next campaign? Look here!
5) Contrex mineral water- 'Contrexperience'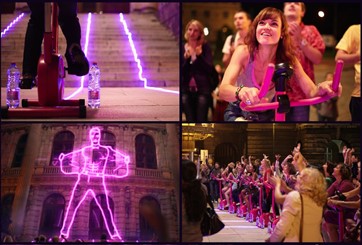 Source
Nestle had launched a new marketing campaign for their Contrex mineral water, which has a high calcium content and is said to help people lose weight by speeding up their metabolism and burning calories. The concept behind Contrex's campaign in which ladies burn 2000 calories in just a few minutes of fun and playful cycling. A group of women burnt 2000 calories in just a few minutes of pedalling bicycles which then powers a neon sign male stripper. Gamifying marketing encourages people to collaborate as a team, even if they are total strangers. People that take part in these kinds of marketing efforts are a lot more receptive to follow-up emails, replying in much more detail, and their interaction with the brand is much stronger.
The utilization of gamified tactics is an effective strategy for brands to boost sales. The examples above show not just creative gamification, but also the outcomes of happy, engaged consumers who, in many cases, were eager to tell their social circle about their experience.
Feeling Inspired to integrate gamification in your next campaign? Let's start exploring the possibilities together!
Jam Van is a leading experiential marketing agency that offers specialization in experiential marketing, mobile experiences and out-of-home media, thanks to our 20+ years of experience. If you want to get started, send us an email at info@jamvan.com.