By: Jennifer Chan, Account Coordinator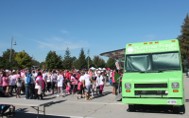 Big thank you and shout out to Summer Fresh and their team for giving Jam Van the opportunity to run a month-long campaign throughout the end of summer 2017! One of our most exciting programs last year, having Jam Van mobile activations made executing the Summer Fresh experiential strategy a success. For myself personally, this gave me motivation to consider food marketing within the XM realm. Because of my love for healthy food, I was extremely keen on getting the project started when it first came to my attention.
A quick background on the company for those of you who may not be familiar with the brand. Summer Fresh is a Canadian-based, family-run company with a manufacturing facility based in Woodbridge, Ontario and accredited with the highest health and safety standards in the world. For over 25 years ago, Summer Fresh has been crafting healthy, preservative-free gourmet salads, hummus and dips using clean and simple ingredients you can find in your own kitchen. The company is a recognized leader in innovation in the refrigerated deli space and  was the first to market products such as Roasted Garlic Hummus, Roasted Red Pepper Hummus, Artichoke and Asiago dip, Baba Ghanouj dip, and the 7 Grain Salad Bowl.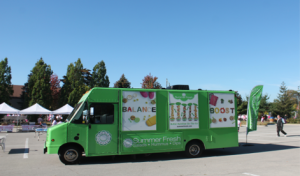 The campaign promoted their new line of Snack n' Go salads consisting of five different flavours that consumers were able to sample when the Summer Fresh Jam Van pulled up to the curb. A branded Summer Fresh Jam Van circled South Central Ontario and the GTA to showcase the new product flavors including: Super Charge, Energy, Boost, Balance, and Detox. Consumers were invited on board to spin the wheel and learn about the brand in fun engagements. Getting hold of a snack that is deliciously tempting, fulfilling and great for you isn't always easy, especially when you're on the go or in a rush and need a quick fix. Each salad has fantastic nutritional benefits and is packed with superfoods for a healthy nutritional boost that will keep you satisfied longer between meals.
It was the perfect fit! It only made sense to pair a portable tasty snack campaign with a company that excels in mobile activations creating a memorable experience for consumers. This really allowed Jam Van's turnkey elements to shine in the city of Toronto, at events all over Ontario, and school campuses. On top of which, we targeted students, food lovers, health enthusiasts such as myself.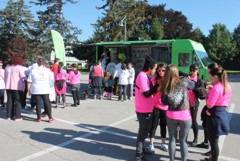 Summer Fresh, the company itself, was a pleasure to work with. It was great to see clients truly care about not only their product, but the actual feedback consumers were giving in. They took the good with the bad and made almost immediate changes in their process. As with Jam Van, we had our challenges with product refrigeration and venue destinations, but were able to effectively and efficiently implement operational changes. With limited resources and budgeting, we had to call upon our expertise to manage an increase of double the amount of product sampled. With an expert team of field managers on location, the Summer Fresh mobile pop-up managed to distribute 29,000 samples and reached almost 7 million mass media impressions through guerilla marketing and on-site permits.
As an account coordinator, I assisted in the brainstorm and organization in the office in combination with supervising the activation and team on site. At this level, I am connected to the forefront of execution being the brand ambassadors representing Summer Fresh as well as carrying out management direction with regards to sourcing uniforms, location scouting, staffing engaging people, logistics (personnel, samples, branded truck), and reporting. It's a great hands-on position involved with several departments. During the Summer Fresh program, I had to put to test the skills that I have learned in the past year. Out-of-the-box thinking is what makes experiential marketing interesting and innovative.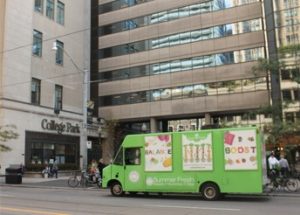 We are looking to continue our partnership into 2018 with Summer Fresh. Whether it is expansion into other markets or incorporating more OOH media advertising, hopefully we'll be able to offer more outdoor marketing strategies into the campaign. Plenty of ideation and planning heading our way for the Spring/Summer so if you'd like to join the field team for upcoming programs, please apply with resume and photos to info@jamvan.com