By: Sabrina Paniccia
I've been back to work for over two months now and I'm not sure how other mothers feel, but I would say the adjustment has become quite the love/hate relationship.
I love being back at my job. The routine of work in experiential marketing (a field I love!) and all that entails. With the flexibility of agency life, eating regularly, adult conversations, and drinking hot coffees (my favourite).  The adult conversations were difficult at first, but with the support of my fellow coworkers, it has become easier – still awkward, at times, as I feel I have nothing more to talk about besides my kids.  They have been my constant for two years.  And yes, I said two!  I had one baby and then suddenly, I was pregnant again – My babies are 11 months apart!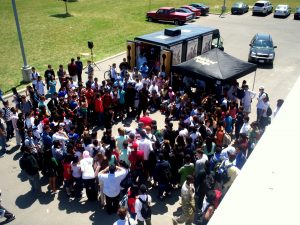 To say going back to work has been an adjustment is an understatement.  I teeter totter my feelings of being back to work constantly.  I am so grateful to my company Jam Van for their constant support and love throughout it all.  One moment I become grateful for the adult company, routine, coffee, the excitement of working at an XM agency, and leading marketing activations etc. to being upset – crying, angry, lonely and resentful for having to come back and leave my babies.  This place of bliss a second ago, just became a place of misery in my head.  I miss my babies and this place, this thing called work, has taken me away from them.  
Then there is the adjustment of trying to remember more than changing diapers, feeding babies, and teaching life skills. Motherhood is a different world than the working woman's world! – I don't say working world, because being a mom is work too!  Trying to wrap your head around being given duties by your superiors vs. by a baby, becomes a whole new ballgame.  Listening to your boss – the superior of the company you work for vs. Listening to your boss, the not even two-foot human being that has owned you for the past two years becomes difficult to wrap your head around. Recalling what work you did at your job prior to your maternity leave, or for me your two-year hiatus, is like trying to recall the first time you went to Walmart. (Bet you weren't expecting that). Living up to the legend you were before leaving your job, trying to be who you were then, but knowing you are different, that you can't be the same person you once were.  You have limits now, other responsibilities, your bed time has just moved up dramatically along with your wake-up time.  The life of marketing, branding, media, advertising, and being on the go will never feel the way it once did.  Not to say you don't still love it. You're just too tired to remember the exciting feeling it once gave you.  Too tired to remember who the boss is between the day and the night and what is really supposed to be in your purse right now – your wallet, hand sanitizer, pen and phone, or that toy, bottle of milk and diaper that you know your baby managed to switch when you weren't looking – before you left the house.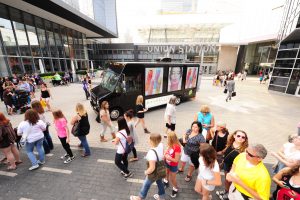 How do you hold it together? How do you remember everything – Does anyone realize you still suffer from baby brain (it's a real thing!).  How do you balance two totally different yet completely hectic lives? And two very different worlds?  I'd love to tell you I have the answer but the truth is I'm still figuring it all out.  I struggle each day but I'm surviving. It really does get better – the other mom groups weren't lying. Although there were/are times I could swear on my life they were/are lying about getting better. At the beginning my days were difficult.  It was hard not to cry. I missed my little girl's first steps, although it was captured on video – it still wasn't the same.  It was a real struggle and it still is, most days, but as time passes it really does get better.
My advice, for the very little I have, is to take each day one at a time.  Don't let the small things burn you out and most importantly, remember that your kids love your no matter what, you are enough!  You don't need to live up to who you were before kids, you need to establish who you are now – after kids and that you still have the same qualities you had before and have just gained a whole bunch more – Consider yourself Superwoman!
To discuss any music marketing and sales campaigns, please reach out to me at Sabrina.paniccia@jamvan.com or call 416-203-2375