Article Written by Jenny DeSousa, Associate Director 
Starting at Jam Van was a huge step for me.  I came from another agency in an Account Supervisor role and was entering the marketing world into a more executive role as an Associate Director.  I know a lot of people in the industry and was confident I had a lot of experience, but the new role and the robust job description scared me a little and made me question whether or not I could do this.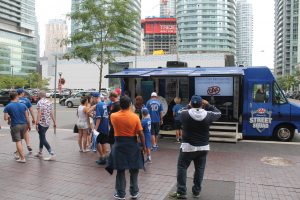 Here I am, a year and a half later, with a great roster of clients and so many more meaningful relationships in my life.  I remember landing my first big client and campaign here at Jam Van with CAA.
We went into their office and I was nervous to present but we did a great presentation and I knew right away this wonderful group of people were going to be amazing clients and become great friends.
We began building out the campaign in 5 weeks – crazy right?  Anyone who works in the Experiential Marketing world knows that this time frame is less than ideal.  We went in head first making decisions and working very collaboratively with the CAA client.  I have worked on a lot of portfolios and with a lot of clients but this one was really special for me.  I was given the rope to hit the ground running and make all of the decisions – a notion that was very foreign for me.  I set up some weekly meetings with the CAA team and we created a true partnership and built an 8 week program that was going to last the summer of 2016.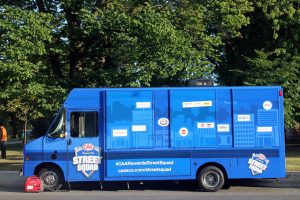 We had a reveal at our client office and I remember that day feeling so nervous and hoping I brought their vision to life.  When we showed up and set up our mobile pop up, the client was so happy and impressed.  I remember feeling so good that day and feeling so proud. Pretty much the whole office made an appearance and came out to see what initiative the CAA Marketing team had put together with the help of Jam Van, and they were just as impressed.  Check out the 2016 promo video: https://www.youtube.com/watch?v=uqSFo0KP4kI
We launched on June 15th, 2016 and it was 8 weeks of fun!  What I loved was that I met with CAA weekly and we worked together to make changes, improve the activation and had a true open dialogue and transparency on the program and course corrected together.  This was the most seamless campaign I had ever put together and worked on, from start to finish.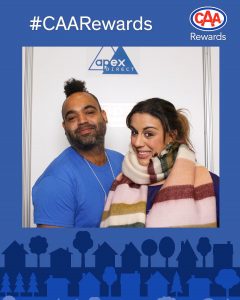 To explain the campaign a little bit, we were tasked with rewarding CAA members and thanking them on behalf of CAA.  This was not an acquisition campaign but truly a campaign to say thank you to CAA members.  We took the opportunity to educate members on the CAA rewards program and let them know that CAA offers so much more than just a "tow truck".  We had a spin wheel on board the Jam Van and CAA members were given the opportunity to spin the wheel for a prize which their partners kindly provided to us.  In order to spin the wheel, we were asking CAA members to present their cards to swipe and be entered into a contest as well.
CAA had a target of getting 50 swipes, and as the program went on and the weeks went by, we were doing so well in getting CAA members to swipe, the targets grew as well.  Towards the end of the campaign the goal was to be in the thousands and I am proud to say that we were able to achieve almost 10,000 swipes in the course of 8 weeks!  This is a number even I was unsure we were going to hit but with the help of my team and encouraging our field teams with incentives, we achieved success. We made it happen because that is what you do in this business – you make the impossible happen!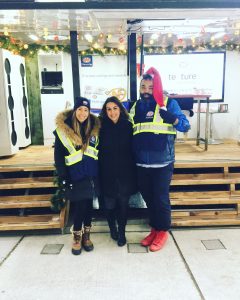 We pride ourselves in doing our due diligence and research for our clients and finding the best locations for them to be and this is exactly what we did for CAA.  They were able to achieve this success because we helped ensure they were in prime locations and we made sure we had the best staff.
My main contact at CAA was Dina Fernandes.  A client relationship that has now blossomed into a friendship.  I take pride in creating these friendships and true partnerships with my clients.  Below I have a testimonial from her I would like to share: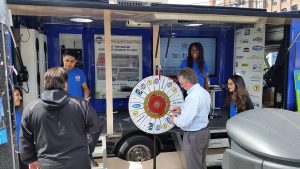 "We worked with the Jam Van team last summer to promote our Rewards program. Creating an experiential campaign was new to our team and with minimal experience we relied on the expertise of the JV team to help us navigate our ideas and work closely to ensure we met our targets. We had one point of contact Jenny who kept us on track, advised us of any concerns, provided us with weekly status updates, met weekly to address any larger questions we had and always delivered. We look forward to working with the Jam Van team again to continue to build on the exposure of our program."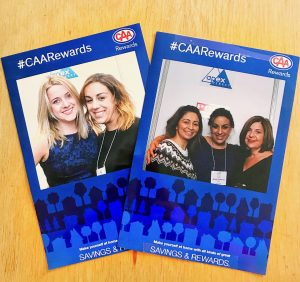 Testimonials like this are what make getting up in the morning and doing my passion worth it.
Back for a second summer, we are currently activating with the CAA Street Squad across the GTA!  Launching on July 15th at the 2017 Honda Indy in Toronto, the Street Squad is coming for you with a huge roster of prizes from CAA Reward partners.  Don't miss the chance to win some gift cards, swag and great prizes as well as learn about the CAA Rewards program for further discounts in the future.  Visit the CAA website and track us on social media by clicking here.
If you want to chat more about the work we do at Jam Van, contact us at info@jamvan.com
Cheers,
Jenny