I recently celebrated my one year anniversary at Jam Van Inc! About 15 months ago, I joined as the Business Development Manager and began my adventure in the world of guerilla and mobile marketing experiences.  I am so fortunate to work with such a fantastic, dynamic and creative group of people, who I am also lucky to call my friends.  Our work offers loads of excitement, entertainment and exposure to some of the coolest brands in Canada!  I started off my work with the launch of Estée Edit in Toronto!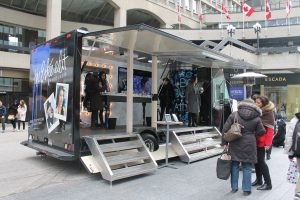 My past experience has largely been in event marketing via sponsorship acquisition, development and campaign execution.  I worked with luxury and technology brands in defined spaces, where the execution focused on acquisition and forming strategic partnerships.  I also executed pop-up shops and events in blank canvas spaces like fields, festivals, event venues, conferences and parking lots.  A blank canvas is very inspiring and awesome – until you start planning the execution and realize just how much you need to actually create your experience.
Now, having had experience in standard event marketing, I can contrast and compare a guerilla mobile activation against a non-mobile activation, like an in-store pop-up shop. Here are a few of my key learnings:
1.   Turnkey saves lots of dollars.  Turnkey must be the largest advantage of a Jam Van mobile marketing truck – everything is built in!  I remember executing pop-up shops at storefront venues and watching my budget bloat and bloat and bloat.  Even with a healthy budget, there are so many additional costs that creep into a developing campaign in a blank space that has zero turnkey equipment. For example, sourcing and installing audio and visual equipment, lighting, furniture, Wi-Fi, special effects, transport and logistics for load-in/load-out of all the equipment, labour for installation, etc.  These costs add up quickly!  I have learned that with Jam Van marketing truck, the entire machine is turnkey, simplifying lots of headache, logistics and dollars that come with event marketing.  It's like a "press play" marketing machine. Moreover, because it's turnkey and customizable, it's entirely possible to work within a variety of budgets.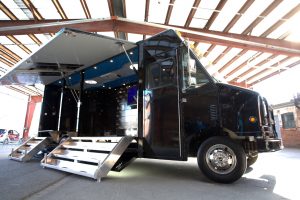 2.   Public Access is key!
Jam Van is very fortunate to be grandfathered into the "food truck" movement almost 20 years ago, when the company used to sell CDs directly from the truck.  Due to these permits to sell merchandise, we are able to activate, sample and promote from the Jam Van.  Our clients love this opportunity because this allows us to park and activate in dense pedestrian traffic areas, without requiring a budget for private permits.  Rather than pay for hefty vendor or venue rental fees, we are able to reallocate budget to augmenting the experience!  Some of our favourite locations in Toronto include King and Spadina, Liberty Village, Queen and Soho and Yonge and Dundas.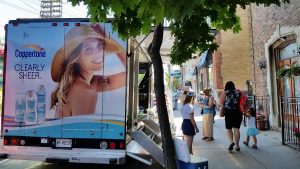 3.   Mobile
Jam Van Inc. specializes in mobile marketing experiences – and I never realized just how efficient mobile could be.  Rather than choose one location for a pop-up shop, why not hit up multiple desired locations?  This approach eliminates the need for a robust public relations budget to inform the public of your pop-up shop. Rather than drive consumers to your location, we can drive  directly to the consumers and target multiple locations daily to reach demographics at various parts of their day.
4.  Cost Efficient
I touched on this earlier, but my goodness – a turnkey mobile pop-up shop is far more cost efficient than a standard store front activation.  This allows room to allocate budget to premium swag items, influencer relations, social media strategy, or making the customizable showroom and experience stand out.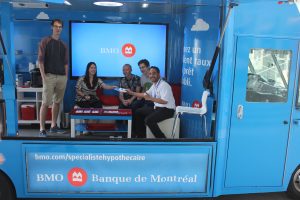 5.   Jam Van Inc. is a Wholesaler
Yep!  We designed, developed and built each one of the Jam Van units in Canada.  The process was lengthy to ensure that every component was accounted, making the Jam Van invention turnkey and versatile to suit many types of brands. Because we own our products and technology, this means that your brand is getting the rock bottom costings for your activation.  With agency partners, we are able to be fully white label!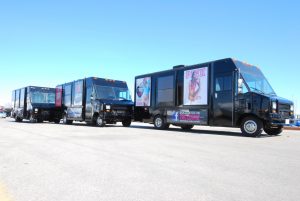 6.   Full Execution
One time, I remember renting a photo booth experience and being left to manage it on my own.  At Jam Van, the team offers full turnkey mobile marketing activations, complete with all sourcing, staffing, and project arrangement – if you prefer.   With many of our clients, we also offer concept and creative ideation, leveraging our years of experience in guerilla marketing to create a memorable experience.  How many event venues will manage all logistics?
Each Jam Van includes an Operations Manager/Driver who is an expert in all the onboard technology. We won't leave you hanging or expect you to drive this monster marketing truck on your own!  We can totally appreciate that maybe you don't have the time to manage an activation.  You have ads to buy, campaigns to plan, reports to write, and administrative duties.  The goal is to remove these headaches, and develop and execute an unforgettable activation.  Our events team wil handle all the troubleshooting and nuances that come with experiential and event marketing.  Turnkey full execution is one of our largest selling points due to the vast array of campaigns that we have managed.
What is your preference – mobile or venue activation?  Have you experienced any of the challenges that I outlined?  Please get in touch to discuss.  I would love to hear your thoughts!  I can be reached at Louiza.Szacon@jamvan.com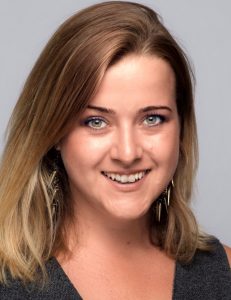 Louiza Szacon
Manager, Strategic Partnerships
Office: (416) 203-2375 ext. 25 | Mobile: (647) 521-5684 | Fax: (416) 203-2737
Email: louiza.szacon@jamvan.com
Jam Van Inc. | Expose. Engage. Excite!
18 Widmer Street, Suite 100, Toronto, ON  M5V 2E7