Article Written by Duane Jackson, Project Manager
When I joined the Jam Van team I wasn't exactly sure how I would fit in and what I would have to offer to an Experiential Marketing company given I came from a technical background.  I quickly realized that having an eye for detail and a creative imagination was all I needed to find my niche and make my mark on the production side of the business.  Creating a space station at the corner of Yonge and Bloor Streets in the heart of downtown Toronto was where it all started.  Although opportunities like that don't happen every day, Jam Van vehicle wraps are something that happens more often.
Besides having six interchangeable billboards and two video screens, the Jam Van offers our clients the opportunity to use our vehicles as their canvas to create a beautiful eye-catching advertising space that will be seen by many people.  It transforms the van from a mobile billboard with ad space to a marketing experience with a touch of class!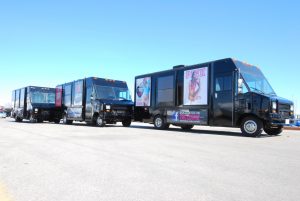 Many vehicle wraps are made of large, printed vinyl stickers that are applied to the surface of a vehicle. However, designing these effective ads can be a little complex. Any designer who decides to undertake a vehicle wrap project should at least be at an intermediate skill level with standard graphic design programs such as Adobe Illustrator, and with the help of Adobe Photoshop you can achieve beautiful, high impact results.  For me that was a challenge at the beginning, but after several painstaking hours/days of mistakes and wondering how the heck am I supposed to turn blah into wow, I finally made it to the junior intermediate level.  And I am sticking to that.  Fortunately for me most of our clients design their own wraps with their creative teams but we work together to turn my "WOW!" into "BAM!"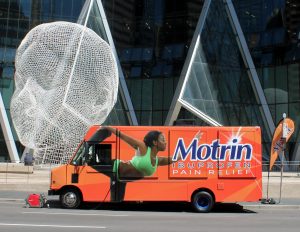 To make everything work I provide clients with a mock-up which allows me to show them the potential of what they can do with their campaigns.  Sometimes we call in the big guns to give us an artist's rendering of a full campaign.  This is both fun and nerve racking especially when I have no idea what a client wants to do.
The process I use for creating a final design, whether it's me creating it or our client, are as follows:
Before I go to the final design I give our clients a scaled Design Template

of the Jam Van so they have a clean canvas to work with.

Blank Canvas Jam Van – Illuminated Billboards and Back Wrap Only

Billboards and Back Warp for Estee Edit

Create layered artwork so you can easily change components and pictures to your liking. Sometimes your first choice is your least favourite.

Interchangeable Holiday Billboards for Chip-Its

Use bold colors and one main point of focus might work best to make your design eye-catching.  When the Jam Van is parked or in motion the first thing that catches peoples eye is colour and when it pops alongside good high-resolution graphics we have already captured the eyes of passersby.

Full Wrap featuring CAA Rewards Partners

Always try to keep it simple. Overly complex designs will often defeat your purpose, both in being visually confusing and difficult to install.  Too much information on a wrap will work against a good impression.

Nordstrom Features Clean, Minimalist Billboards and a Full Vinyl Wrap
Once all the artwork is complete, I review it and look for details that might need to be adjusted and make any suggestions.  Often our clients miss things like door hinges, frames, curves, etc.  Also, I work with the printers to make adjustments, double-check measurements between your digital template and the actual vehicle to avoid any costly mistakes.  Designing "flat" artwork to fit over an irregular three dimensional object can be tricky, so I work closely with your printer and installer to achieve the best possible outcome.
And that in a nutshell is how we create a successful vehicle wrap!
Cheers,
Duane Jackson
Project Manager